Libvirt. Why should I care?
Michal Prívozník
mprivozn@redhat.com
KVM Forum Düsseldorf 2014
QEMU/KVM
Runs quickly
Scalability
Portable
QEMU/KVM
No host management
Multiple interfaces
No language bindings
No inter-VM perspective
Libvirt
C library, bindings
Stable API
Multiple hypervisors
Domain startup
Query QEMU capabilities

Get list of supported devices, attributes, events, etc.

Prepare host devices
Reserve VNC/SPICE ports
Domain startup
Consult numad for placement

Mystery since vCPU/memory can be hutplugged

Build command line

Most of the host resources allocated

fork()

Drop all unneeded capabilities
Domain startup (child)
Report PID to the daemon

Needed later in the process

Lock domain disks
Honor NUMA settings

Place onto configured NUMA nodes

Set process security labels, cwd, etc.

Drop the rest of unneeded admin capabilities
Domain startup
Create cgroup hierarchy

Selectively allow devices, set blkio, etc.

Set security labels on domain resources

Disks, host devices, chardevs, kernel, etc.

Complete handshake to child
Domain startup
Connect to the monitor

Finish setting cgroup, set runtime values

Start domain vCPUs
Run post-exec hook script
CGroup layout
Keep directory as flat as possible

$ROOT/system/libvirtd.service/libvirt/qemu/dom1
$ROOT/machine/dom1.libvirt-qemu

SystemD integration

Idea is to have one manager
A domain (scope), a group (slice)

The path is configurable in XML
CGroup layout example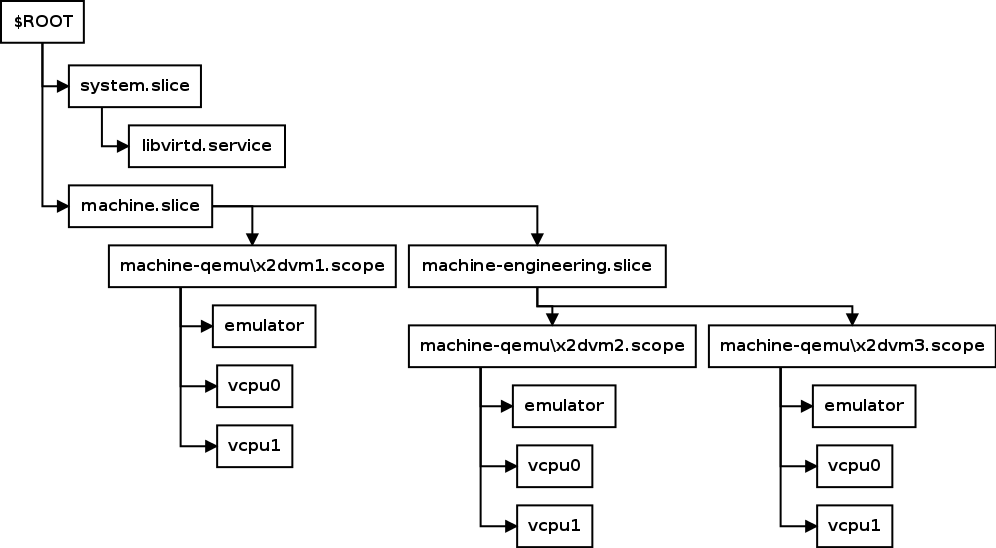 Virtual Networks
Create a virtual bridge
Operating modes: NAT, Isolated, Routed
Run DHCP/DNS server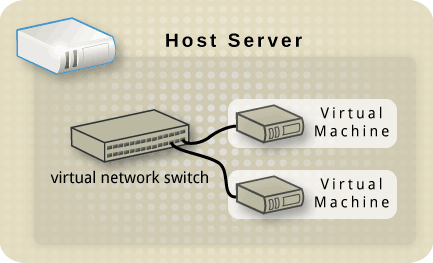 Network Filters
Enforce network traffic filtering on vNIC basis:

        <devices>
          <interface type='bridge'>
            <mac address='00:16:3e:5d:c7:9e'/>
            <filterref filter='clean-traffic'>
              <parameter name='IP' value='10.0.0.1'/>
            </filterref>
          </interface>
        </devices>
        
Network Filters
Filters written in XML:

        <filter name='no-ip-spoofing' chain='ipv4-ip' priority='-710'>
          <uuid>2b308492-52d3-4bda-8f0c-1dedbcf58e04
          <rule action='return' direction='out' priority='100'>
            <ip srcipaddr='0.0.0.0' protocol='udp'/>
          </rule>
          <rule action='return' direction='out' priority='500'>
            <ip srcipaddr='$IP'/>
          </rule>
          <rule action='drop' direction='out' priority='1000'/>
        </filter>
        
Network Filters
Automatic IP address detection:
DHCP snooping

Multiple IPs per interface
Combine with filtering untrusted DHCP server

IP packed snooping
Secrets
Used to store passphrases for QCOW2/Ceph/iSCSI disks
Libvirt provides stored passphrase to auth mechanism
Passphrases can be stored on disk, or in memory, and set to be private
Storage management
Pools

Local: directory, LVM VG, disk
Shared: NFS, iSCSI, Gluster, RBD

Volumes

Local: file, LVM LV, partition
Shared: file, LUNs
sVirt
DAC is not enough.
Malicious guest is threat to others running under the same user.
Aim is MAC policy enforced by the host kernel.
Libvirt generates dynamic SELinux labels.
Set label on disk images, sockets, devices, etc.
Snapshots
| | disk | memory | checkpoint |
| --- | --- | --- | --- |
| internal | No | N/A | Yes |
| external | Yes | Yes | Yes |
Create, revert, merge (pull/commit), delete
Libvirt keeps metadata